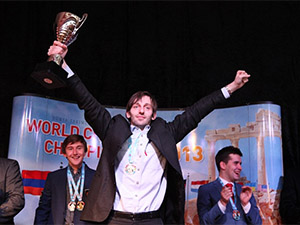 World Team 09: Russia takes gold; China silver 12/6/2013 – There was little chance of any surprises in the last round as the leader Russia defeated Egypt as expected, taking gold. Ukraine managed to overcome Armenia, but was outscored by China's 3-1 victory over Turkey, giving the Chinese Silver, and Ukraine Bronze. Aronian was the biggest performer, but of note is Nakamura moving into no.3, only the third American in Elo history.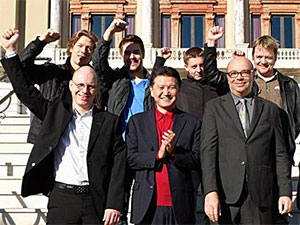 Small Nations with big dreams 12/5/2013 – The European Small Nation Team Championship was organized by the Monaco Chess Federation in Monte Carlo. Ten nations competed in the round robin tournament, and in spite of the seemingly modest lineups compared to the World Team, for them it was just as important since dreams and goals lay behind a grand result. The event brought in anecdotes and history with Bobby Fischer and Princess Grace.

Chess Problems: Excelsior Again 12/5/2013 – We recently published a very famous chess problem by the great Samuel Loyd, in which a pawn that moves from its original square all the way to promotion to deliver mate. This theme became known as an "Excelsior", and we asked our readers to provide other examples of the theme. Problem expert David Friedgood collected four examples and traces the full history of the Excelsior.